We are challenging HSHC's individual and community supporters during the month of September 2022 to raise money for the work of our ministry by spending time outside collecting Creation Minutes.  Participants can collect Creation Minutes through a variety of activities, such as:
Walking, gardening, talking with neighbors, temporarily moving a home office to the back porch, playing with children, reading a book, watching the sunset, or simply resting outside.

Not only does research suggest that spending at least 2 hours (120 minutes) per week in nature helps improve our overall wellbeing, but it is our hope that, through this intentional time spent outside, participants will experience God's movement among them – "moving out" some of our old (and perhaps destructive) ways of being and replacing them with something new (life-giving).
"I am about to do a new thing; now it springs forth; do you not perceive it?  I will make a way in the wilderness and rivers in the desert." – Isaiah 43:19 NRSVUE
For more details about the challenge, click here or scroll down.
To register, click here.
Registration is open August 1-28, 2022. 

You'll receive a Participant's Guide to help you fundraise and share your results.
While this is a fundraising event, you do not have to donate to participate!
To donate, you can:
Mail checks to:

Healthy Seminarians – Healthy Church, 4600 Old William Penn Hwy, PA, 15668.
When you register and/or donate to the challenge, you will receive a weekly Motivation for Creation Minutes reflection written by people from the HSHC community (scripture verse, short reflection, and questions for contemplation) each week in September, leading up to the end of the "Move Out!" Challenge.
MAKE YOUR MOVE TODAY! 
Your gifts enable us to continue equipping seminarians, clergy, and congregations as they journey towards greater wholeness.

MOVE OUT! CHALLENGE OVERVIEW
Step 1: Each participant will set a fundraising goal of 480 'Creation Minutes' x the dollar amount per minute they want to raise in support of HSHC.
Note: 120 minutes/week x 4 weeks = 480 minutes (2 hours/week)

Use this chart to help set your goal, or come up with your own dollar amount/minute!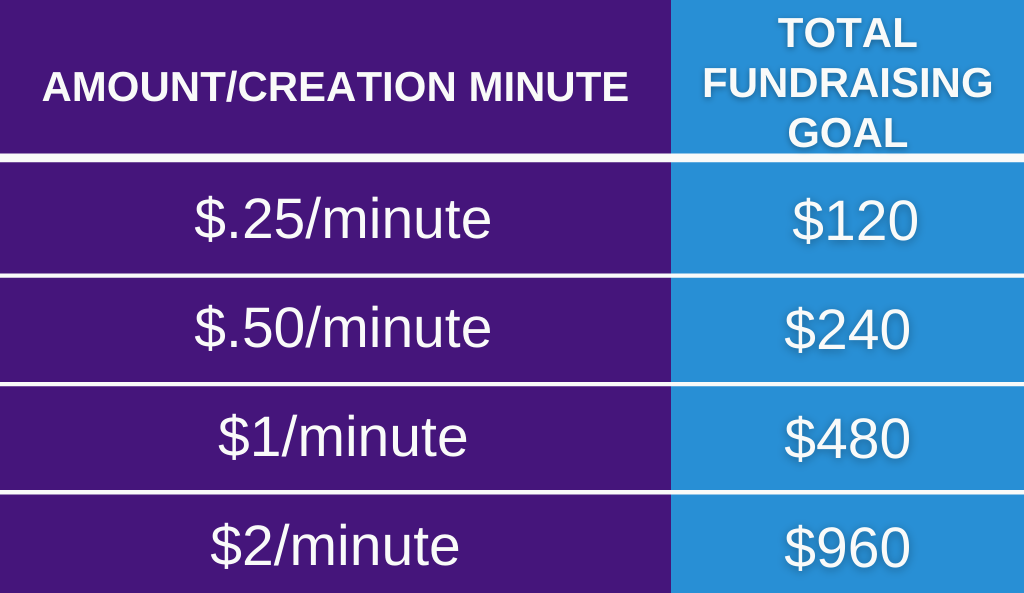 Step 2: Invite family and friends to help you reach your goal by:
Giving what they can.




Sending you encouraging messages as you work towards improving your health via the beauty and benefits of creation!
Step 3: Record your 'Creation Minutes' via your givesignup.org profile.  You'll receive specific instructions in the Participant's Guide found in your registration confirmation email.
Additional Information:
Spending time outside can be done alone or in teams (encourage family and friends to join you!).

Set up your individual or team fundraiser when you

register

and then share with your network and/or connect to Facebook for easy giving.
Healthy Seminarians + Healthy Churches = A Healthier World!
Move outside and support HSHC as we provide spaces and tools for seminarians, pastors, and church members to build flourishing lives.