Introducing HSHC's Summer 2020 Intern – Lucas Mburu!
June, 2020 – Lucas will be working with us part-time in partnership with Columbia Presbyterian Church, which is located across the street from HSHC's office, and Columbia Theological Seminary (Decatur, GA).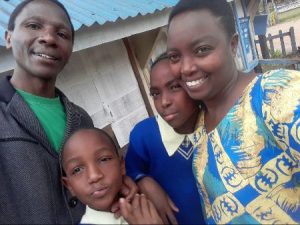 Snapshot Bio
Home Country: Kenya
Studying: This fall, Lucas will be a second-year student in the Master of Arts in Theological Studies program at Columbia Theological Seminary, emphasis on the New Testament.
Family: His wife Eunice, daughter Grace (13 years old), and son Timothy (8 years old).
Personal Statement: Each human is God's work in progress, whom God created "sovereign," able to imagine and create meaningfulness in their environment for flourishing.
Vision: To build a community that lives into this "sovereignty."
Mission: To live my call, passion, training, analytical, and stewardship potential by exercising love, faithfulness, professionalism, and ethical conducts in communicating God's love to humans in their day-to-day matters, for the glory of God.
Slogan: Doing good to as many people as I can, in as many ways as I can, in as many places as I can, and as often as I can.