January 2021 – Happy New Year and welcome to ordinary time! Ordinary time? While vaccinations are starting to be distributed and hope is on the horizon, sheltering in place, social distancing, and wearing masks are still expected. If that is what is considered ordinary, no thank you!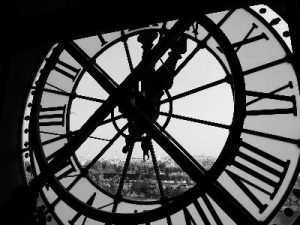 Ok, no, things are clearly not back to "normal" yet, but we have circled back to the liturgical time of the year that is called "Ordinary Time" and today is actually day two in ordinary time. It is the time of year that is not directly connected with either the Christmas or Easter seasons (second week in January through the start of Lent as well as the days after Easter through the beginning of Advent). So the meaning of "ordinary" comes from the ordinal numerals by which the weeks have been identified as opposed to how we might feel about our present circumstances. 
I don't know about you, but even in previous years, when we were not faced by the challenges of COVID, this time of year between Christmas and Lent has always felt strange to me. Living in between the time of joy and celebration of Christ's birth and the excitement of the New Year followed a few short weeks later by a season of penance and fasting during Lent. It feels a bit like some sort of spiritual and emotional whiplash. Given this tension I experience in "normal ordinary times," I found myself pondering, "Is there something I can do this year to approach this ordinary time differently?" 
I found myself drawn to a piece I read years ago by author Kathleen Norris. In"The Quotidian Mysteries: Laundry, Liturgy, and Women's Work," Norris begins by defining "quotidian" as that which occurs every day; belonging to every day; commonplace, ordinary [1]." She goes on to discuss the challenges that can arise when "the daily routines that provide a modicum of discipline in our lives are perceived as a drag, a monotony that can occasion listlessness, apathy, and despair [2]."
I don't know about you, but, yes, I'm tired of not being able to interact with others without fearing that "I" or "they" could make each other sick. Yes, I'm tired of trying to make plans, but then having to cancel them due to COVID. I'm tired of… fill in the blank… and quite frankly my patience is starting to wear thin! She then goes onto write, "Just when daily life seems most unbearable, stretching out before me like a prison sentence, when I seem more dead inside, reduced to mindlessness, bitter tears or both, that what is inmost breaks forth, and I realize that what has seemed 'dead time" was actually a period of gestation [3]." 
During this ordinary time, I want to challenge us all to consider how God is using this time to birth something new within us – as individuals, in our communities, and in our world! Given all of the possibilities, I'd say we are truly living in an extraordinary ordinary time!
Peace and blessings be with you during this extraordinary time and beyond! 
Karen Webster 
"Forget the former things; do not dwell on the past. See, I am doing a new thing! Now it springs up; do you not perceive it?"


Isaiah 43:18-19 (NIV) 
Photo by Murray Campbell on Unsplash
[1] Norris, Kathleen. The Quotidian Mysteries: Laundry, Liturgy, and "Women's Work". New York: Paulist Press, 1998, preface.
[2] Ibid, p. 6. 
[3] Ibid, p. 10.