June, 2020 – HSHC's student intern, Anna Grace Claunch, graduated from Columbia last month. She served as our intern for the past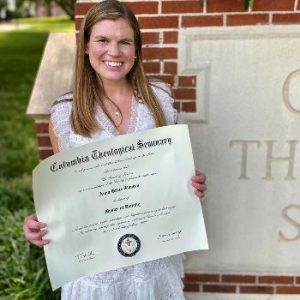 two years and we are thrilled that she will now be on HSHC's board of directors! Anna Grace is currently moving to Pelham, New York, where, at the end of the month, she will begin a year-long residency at Huguenot Memorial Church (Pelham, NY).
She is eager to show her new congregation the many ways in which one's faith and health overlap, and teach them how to live more fully into a life of wholeness, not only for themselves, but for the world in which we live.